WORLD BLOOD DONOR DAY
When is World Blood Donor Day in 2023?
World Blood Donor Day in 2023 is on the Wednesday, 14th of Jun (6/14/2023).
World Blood Donor Day is on the 165th day of 2023. There are 200 days left in the year.
World Blood Donor Day Facts
Date: Jun 14, 2023
International
Also Called: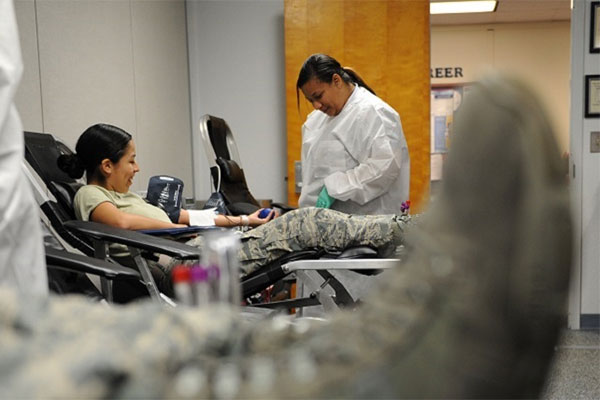 iImage Credit: health.mil
Following the overwhelming success of the World Health Day 2000, was devoted to the theme "Blood Saves Lives. Safe Blood Starts with Me", the World Health Organization declared the 14th of June as the World Blood Donor Day. The flagship event was organized in 2004 in Johannesburg, South Africa. The day is dedicated to "thanking and celebrating voluntary non-remunerated blood donors". The day, 14th of June also commemorates the birth of Karl Landsteiner, who was awarded the Nobel Prize for his seminal discovery of the ABO blood. The day which also thanks millions of blood-donor world-wide is aimed primarily to ensure the easy availability of safe-blood for transfusion world-wide.
Following its inception in 2004 the World Blood Donor Day initiative has been aided by the WHO, the International Federation of Red Cross and Red Crescent Societies, International Federation of Blood Donor Organizations and International Society of Blood Transfusion. This global network of partners adds on new collaborative agencies and previous global event hosts. In addition to its founding partners the World Blood Donor Day movement is also aided by the American Association of Blood Banks (AABB), Association of Donor Recruitment Professionals (ADRP), Rotary International, Joint United Nations Program on HIV/AIDS (UNAIDS), United Nations Development Program (UNDP), United Nations Educational, Scientific and Cultural Organization (UNESCO), United Nations Population Fund (UNFPA) and the World Council of Churches (WCC).
The World Blood Donor Day operates under a theme each year focusing on specialized issues related to the cause. The theme for the year 2012 World Blood Donor Day campaign is "Every blood donor is a hero". This theme is aimed at recognizing our inner potentiality for the heroic by simply being of use to someone in need, by donating blood. The theme recognizes the efforts of countless of silent and unsung blood donators worldwide who are doing their bit in making life easier and better for someone else by giving them the gift of blood. This also echoes the motto of the World Blood Donation Day which is aimed at "celebrating the gift of blood".
In the present scenario yet another important objective of the World Blood Donor Day is to concentrate on national efforts on bettering the safety and sufficiency of national blood supplies by promoting a significant increase in the number of safe, voluntary non-remunerated blood donors who can donate blood regularly.
World Blood Donor Day Observances