WORLD AIDS DAY
When is World AIDS Day in 2023?
World AIDS Day in 2023 is on the Friday, 1st of Dec (12/01/2023).
World AIDS Day is on the 335nd day of 2023. There are 30 days left in the year.
World AIDS Day Facts
Date: Dec 01, 2023
International
Also Called: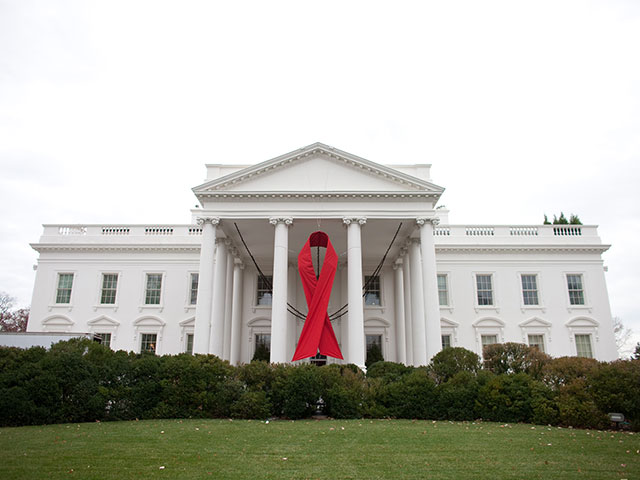 iImage Credit: WhiteHouse
The World AIDS Day is observed on December 1 each year globally. The day is observed to raise awareness among people towards the problem of AIDS and HIV, a disease that affects the immune system of the body.
Among the current problems facing the world, perhaps the biggest of them all are AIDS and HIV infections. According to official data, more than 25 million people have died of these infections between 1981 and 2007. Despite improved preventive measures such as condoms as well as improved antiretroviral treatments, the problem still remains a worry across the globe.
The idea of a World AIDS Day was first mooted in 1987 by two public health officials working in the World Health Organization. The two officials were James Bunn and Thomas Netter. The idea for a day dedicated to the problem of AIDS and HIV was approved by then director of UNAIDS, Dr. Mann. The first ever World AIDS Day was celebrated on December 1, 1988. Up until 1996, the day was organized by the World Health Organization.
However, in 1996, A Global World AIDS program was made by Dr. Mann and Bunn, and a new organization was formed under WHO in order to promote awareness of AIDS and HIV among people. This new organization was called the Joint United Nations Program on HIV/AIDS, also called UNAIDS. Since 1996, UNAIDS has been responsible for organizing the day as well as raising awareness among the masses towards AIDS and HIV and the steps they can take to prevent it.
The purpose of formation of UNAIDS was to have a year-round effort towards promoting AIDS and HIV awareness. Thus, in many countries, an AIDS Awareness Month is observed instead of a single day. Awareness drives and efforts are organized across cities in order to promote health sex habits among the masses among other things.
Government as well as non-government organizations actively take part in such awareness programs and help them take it to every nook and corner of their respective countries. In developed economies such as those of the US and UK, the day is also observed actively in schools and colleges to promote safe sexual habits among the youth.
Other than that, since 1995, the President of the United States has always delivered a keynote address on the day, highlighting the problem faced by the world and urging people to adopt preventive measures. Several other heads of state also deliver keynote addresses on World AIDS Day.
Apart from that, The White House has also started displaying a large AIDS Ribbon on its building since 2007 every year on this day. The effort has garnered quite a lot of attention globally and helped raise awareness level among people. Other than that, UNAIDS comes up with specific themes each year as an awareness strategy towards the problem o AIDS and HIV.
World AIDS Day Observances