RATH YATRA
When is Rath Yatra in 2024?
Rath Yatra in 2024 is on the Sunday, 7th of Jul (7/07/2024).
Rath Yatra is on the 189th day of 2024. There are 177 days left in the year.
Rath Yatra Facts
Date: Jul 07, 2024
Regional (Religious)
Also Called: Festival of Chariots, Puri Rath Yatra
Celebrations: Pulling Chariot, Festivals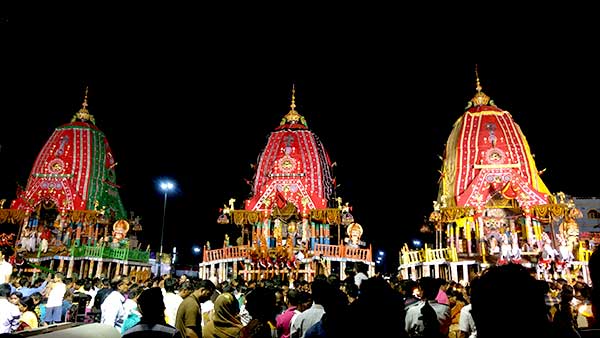 Ratha Yatra is a major Hindu festival associated with Lord Jagannath (avatar of Lord Vishnu) held at Puri in India during the months of June or July.
The Puri Rath Yatra is world famous and attracts more then one million pilgrims every year, not only from India but also from the different parts of the world. Rath Yatra in other words the Chariot Festival is the only day when devotees who are not allowed into the temple can get a chance to see the deities. This festival is a symbol of equality and integration.
The 3 deities, Lord Jagannath, his elder brother Lord Balabhadra and their sister Subhadra are worshipped within the temple, on this festival they are taken to the streets of Puri so that everyone can have the fortune to see them. The 3 deities make an annual journey to their aunt's temple (Gundicha Temple), 2 km away from Lord Jagannath temple.
The Jagannath Temple in Puri is one among the four most sacred temples in India. The other three are: Rameshwaram in south, Dwarika in west and Badrinath in north.
The festival begins with the invoking ceremony in the morning and the chariot pulling on the roads of Puri in afternoon is the most exciting part of the festival. The 3 deities have 3 different chariots - the chariot of Lord Jagannath, Nandighosa, has 18 wheels and is 45.6 feet high, the chariot of Lord Balabhadra, Taladhwaja has 16 wheels and is 45 feet high and the chariot of Subhadra, Devadalana has 14 wheels and is 44.6 ft high. Every year the wooden temples like chariots are constructed newly. The idols of these three deities are also made of wood and they are religiously replaced by new ones in every 12 years.
Rath Yatra Observances