HOLI
When is Holi in 2024?
Holi in 2024 is on the Monday, 25th of Mar (3/25/2024).
Holi is on the 85th day of 2024. There are 281 days left in the year.
Holi Facts
Date: Mar 25, 2024
Religious
Also Called: Festival of Colors
Celebrations: Playing with Colors, Sweet distribution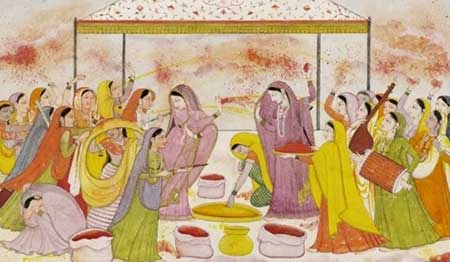 iImage Credit: wikiPedia
Holi is a festival of colors, celebrated primarily in India. The festival falls on the last full moon day of Falgun according to Hindu calendar. It is celebrated sometime in the month of March, usually in the latter half of the month. According to mythology, the festival is celebrates the killing Holika, the sister of Hrinyakashyapu. The festival also holds significance with respect to end of winter season and the onset of summer season.
There is no comprehensive data to know the origins of the festival. However, Holi as we see it today is believed to have originated in Bengal, where the day was celebrated as Gaudiya Vaishnava festival. However, there are several mythological stories behind the origins of the festival. The most popular one is related to the killing of Holika. Mythology states that when Prahlad disobeyed the orders of Hrinyakashyapu and kept praying for Lord Vishnu, Hrinyakashyapu took the help of her sister, Holika, to kill him. Holika took Prahlad in her lap and sat in a bonfire as she had immunity against fire. However, to everyone's amazement, Holika was burnt alive while Prahlad was unaffected. Thus, Holika Dahan is celebrated a day before Holi.
The festival is also believed to be a celebration of Radha's undying love for Lord Krishna. Still another mythological tale states that when Lord Shiva destroyed Kamadeva, he later resurrected him for the sake of his wife Rati. However, Kamadeva was brought to life only as a mental image. The festival is believed to celebrate that event.
The festival is celebrated in different ways around the country, the most famous one being in Mathura. Here, the festival lasts for 16 days, and is primarily played with flowers. In large parts of India, the festival is celebrated with a lot of colors, water balloons and water guns. Parties are often organized across the length and breadth of the country where people dance to music and greet each other with colors. Sweets are an important part of the festival.
Holi Observances