VASANT PANCHAMI
When is Vasant Panchami in 2024?
Vasant Panchami in 2024 is on the Wednesday, 14th of Feb (2/14/2024).
Vasant Panchami is on the 45th day of 2024. There are 321 days left in the year.
Vasant Panchami Facts
Date: Feb 14, 2024
Religious
Also Called: Saraswati Pooja, Shree Panchami
Celebrations: Worshiping Goddess Saraswati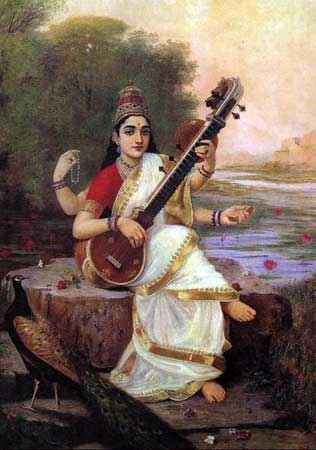 iImage Credit: Wikipedia
Vasant Panchami is an important Indian festival celebrated every year in the month of Magh according to the Hindu calendar. Celebrated on the fifth day of Magh, the day falls somewhere in the months of February or March according to the Gregorian calendar. The significance of the day lies in the worship of Goddess Saraswati, symbol of wisdom and also the onset of spring season.
According to the popular belief, the origins of this festival lie in Aryan period. Aryans came and settled in India through Khyber Pass, crossing the Saraswati River among many others. Being a primitive civilization, most of their development took place along the banks of the River Saraswati. Thus, River Saraswati began to be associated with fertility and knowledge. It is then that the day began to be celebrated.
According to mythology, a popular associated with this day is connected with poet Kalidasa. After he was married off to a beautiful princess through trickery, the princess kicked him out of her bed as she learned that he was foolish. Following this, Kalidasa went to commit suicide, upon which Saraswati emerged from the waters and asked him to take a dip there. After taking a dip in the holy waters, Kalidasa became knowledgeable and began writing poetry. Thus, Vasant Panchami is celebrated to venerate Goddess Saraswati, the goddess of education and learning.
In today's times, the festival is celebrated by farmers as the on-coming of the spring season. The day is largely celebrated in Northern Parts of India. Here, people offer food to the Brahmins and organize rituals in the name of Goddess Saraswati.
The color yellow is the predominant color associated with the festival, the origins of which are supposed to be the fields of mustard which can be seen in Punjab and Haryana during this period. Kite flying is also commonly associated with this festival. Children as well as adults fly kites on this day to celebrate freedom and enjoyment.
Another tradition associated with this day is that of initiating studies in the young. Young children often begin learning on this day, which is believed to be the reason why the school sessions start in the month of March. Sweets with a yellow hue are also distributed on this day and people can also be seen donating books and other literary material to the poor.
Vasant Panchami Observances