DHANTERAS
When is Dhanteras in 2024?
Dhanteras in 2024 is on the Tuesday, 29th of Oct (10/29/2024).
Dhanteras is on the 303th day of 2024. There are 63 days left in the year.
Dhanteras Facts
Date: Oct 29, 2024
Regional
Also Called: Dhanatrayodashi
Celebrations: Buying precious metals (Gold)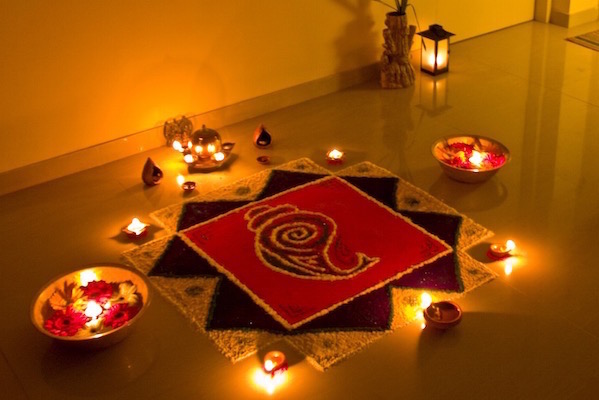 iImage Credit: wikiPedia
Indian culture is one of the ancient and unique cultures in the world. India is often and justly described as a land of fairs and festivals. Every month of the calendar holds a festival that one can enjoy and celebrate. It is impossible to understand India, and her people fully without the knowledge of Indian festivals. Festivals are India's pride and treasure. They are the fragrance of our religion. In the ancient India, festivals went hand in hand with religion. In one sense we may say that festival turned inward is religion and religion turned outward is festival. Thus, the festivals are so deeply imbued with our culture that we (Indians) have great adherent with them. They are elevating our social and cultural life.
"Dhanteras", is one of the famous festivals of India. It is an important part of Diwali celebration. It is a first day of five day celebration of Diwali festival. This auspicious day is also observed as Dhantrayodashi o or Dhanvantri Jayanti (the birth anniversary of God of Ayurveda. The word "Dhana" signifies money or wealth and "Teras" means thirteenth day as per the Hindu calendar. The festival of "Dhanteras" falls in the Hindu calendar month of "Kartik" (Oct-Nov) on the 13th lunar day of Krishna Paksha (dark fortnight). This auspicious day is celebrated two days before of the festival of lights "Diwali".
Every festival has its own significant story or history behind it. These stories are the key reasons to all the celebrations that are performed on these auspicious days. Some legends are also associated with the celebration of this festival.
As per the Hindu holy Scriptures, during the cosmic battle (samundra Manthan), Gods and Demons both churned the ocean (Kshira Sagar) to gain the divine nectar of immortality. God Dhanvantri emerged out of the water with the pot of elixir in his hands. Thus, the name of this day Dhanteras comes from the name Dhanvantri (The Physician of God).
Another ancient legend also describes the occasion to an interesting story about a 16 year old son of king Hima whose horoscope predicted his early death by the snake- bite on the fourth day of his marriage. On knowing this, his wife got worried but reacted intelligently. To save her husband's life, she plotted a plan. She laid out her all ornaments and lots of golden and silver coins in a heap at the entrance and lit lamps all over the place. She started narrated stories and sung a song to keep her husband from falling asleep. When Yama 'God of death' came in the guise of snake to take his life, he was temporarily blind by the sharp lights of lamps and ornaments. He was not able to enter in the chamber till morning. Thus, the prince was saved from the clutches of death by the cleverness of his wife and since then this day is celebrated in the honour of God Yama as Dhanteras or Yamadeepdaan.
Dhanteras is associated with wealth and prosperity. On this auspicious day people buy precious metals gold and silver ornaments and utensils to enhance the household prosperity. It holds special significance for the business community. All the new purchases are dedicated to goddess Lakshmi and lord Kubera. Markets and malls becomes a hectic place of activity. Getting and gifting are also an important ritual during this day. Puja is performed in the evening. Lamps are lit and placed at the entrance to welcome goddess Lakshmi for providing prosperity and well beings and to drive away the shadow of evil spirits. In the many parts of south India, there is a tradition of cows and cattle are worshiped by the farmers.
Thus the celebration of Dhanteras brings human bonding among people. It is believed that it brings immense wealth and prosperity in people's life.
Author: Dr. Nidhi Jindal
Dhanteras Observances