NATIONAL EMPLOYEE APPRECIATION DAY
When is National Employee Appreciation Day in 2024?
National Employee Appreciation Day in 2024 is on the Friday, 1st of Mar (3/01/2024).
National Employee Appreciation Day is on the 61nd day of 2024. There are 305 days left in the year.
National Employee Appreciation Day Facts
Date: Mar 01, 2024
fun
Also Called:
Celebrations: Celebrations; write a thank you note to the employees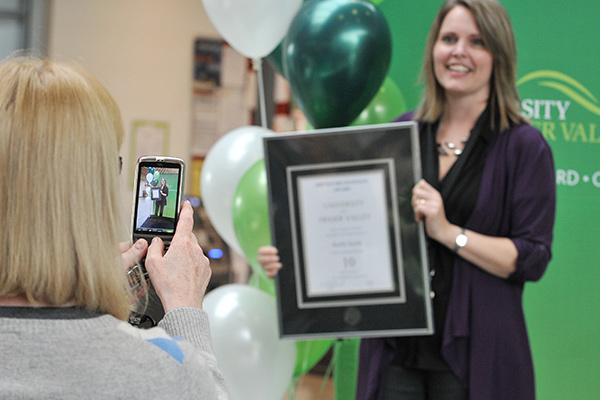 iImage Credit: Flickr
Every first Friday of March is National Employee Appreciation Day. The day was created to appreciate all employees and the role they play in their respective jobs. Different organizations, businesses, managers and companies organize celebrations across the country taking note of all the achievements and efforts the employees put into their workstations.
Considering that employees are the most significant assets that the organizations could have, recognition and appreciation come as a motivational factor that the Human Resource employs to improve the moral and job satisfaction of their staffs.
Managers and employers can show their gratitude to the employees by rewarding them. The rewards can either be verbal or tangible. The act of expressing this appreciation approves the employer-employee relationship which ultimately goes a long way into growing a company.
History of the National Employee Appreciation Day
National Employee Appreciation Day was founded in 1995 by Bob Nelson. He was a board member of the Recognition Professional International. Partnering with his company, Workman publishing, he created the day to honor the efforts and roles played by employees in their respective companies as well as in the society.
How to observe the National Employee Appreciation Day
The day is mostly celebrated by employers and managers who are advised to be flexible on this day; this is critical for good output from your staff. At the time, letting the employees decide on their own can be better for the company and their morale.
As an employer, you can write a thank you note to the employees to show appreciation for their work. Just remember that a handwritten note or memo speaks volume than a typed or photocopied memo. It merely indicates that you took your precious time to jot down your affection.
From time to time, appreciate team effort. As a manager or supervisor, you can respond to the team by congratulating their work and offering them an office paid piazza. Another way of showing appreciation could be by allowing them to have a casual dress day to work, or close work early allowing them to spend more sun time with their families.
As an employer make an effort to create a culture of encouragement in the company. Employees that expand their skills and horizon bring value to the company. Praise their work and accomplishment and encourage the rest to do the same.
As an employee, it's courteous to appreciate the input and teamwork of your colleagues.
Remember to spread good thoughts about this day on the different social media platforms using #NationalEmployeeAppreciationDay.
National Employee Appreciation Day Observances