NATIONAL CHEESEBURGER DAY
When is National Cheeseburger Day in 2024?
National Cheeseburger Day in 2024 is on the Wednesday, 18th of Sep (9/18/2024).
National Cheeseburger Day is on the 262th day of 2024. There are 104 days left in the year.
National Cheeseburger Day Facts
Date: Sep 18, 2024
fun
Also Called:
Celebrations: Celebrations; enjoy fast food, make Cheeseburgers at home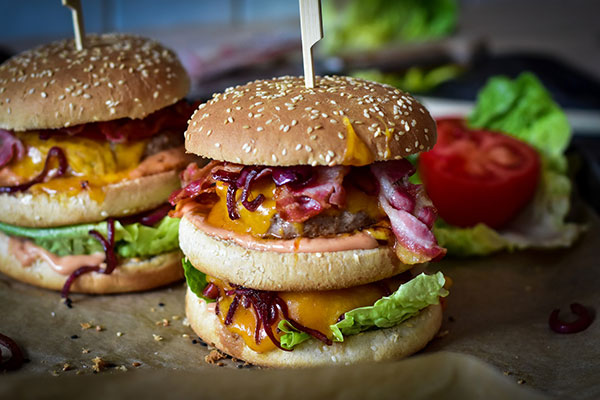 iImage Credit: PixaBay.com
Americans love burgers. Cheeseburgers are even more loved and one of American's iconic food. National Cheeseburger Day was established to give people a better excuse to enjoy this fast food.
What is the history of a cheeseburger?
According to a legend, the cheeseburger was invented in the 1920s by Lionel Sternberger at his father's sandwich shop in California. As a teenager, he was just experimenting, and he dropped a slice of American cheese on a sizzling hamburger. In 1928, the cheeseburger was listed at O'Dell's restaurant's menu selling at 25 cents. Kentucky would later come with its own version of the cheeseburger in 1934, and soon it was spread across the United States.
When is National Cheeseburger Day?
National Cheeseburger Day is marked unofficially on September 18th every year.
Why celebrate National Cheeseburger Day?
We love days that make us gluttonous. National Cheeseburger Day gives you the chance to try out various cheeseburgers without feeling guilty about it. Cheeseburgers continue to be popular due to their quick and easy access. You can have it at any time and any restaurant. That makes National Cheeseburger Day even more worth celebrating.
Things to do on National Cheeseburger Day
National Cheeseburger Day is a time to enjoy a cheeseburger. Make a twist today and prepare your cheeseburger at home instead of ordering one from the restaurant. All you need is barbeque, flip, grill, and fry your meat before placing it on the burger. Remember to spread plenty of cheese. After all, it should be a cheeseburger.
If you have no time to prepare one at home, take advantage of the discounts often offered by most fast food stores across town. The cheeseburgers are likely to run out before the day ends, so grab the opportunity early enough.
Don't enjoy the cheeseburger all alone. Share with someone and trust me; it will taste way much better. It does not have to be your loved ones; you can share with those in need too. It will be much fun when you hand them a cheeseburger and inform them it is National Cheeseburger Day. Most people actually have no idea that the day exists.
National Cheeseburger Day Observances