NATIONAL BAGEL DAY
When is National Bagel Day in 2024?
National Bagel Day in 2024 is on the Thursday, 15th of Feb (2/15/2024).
National Bagel Day is on the 46th day of 2024. There are 320 days left in the year.
National Bagel Day Facts
Date: Feb 15, 2024
fun
Also Called: Bagel Day, Lox Day
Celebrations: Celebrations; make bagel bread, enjoy with friends and family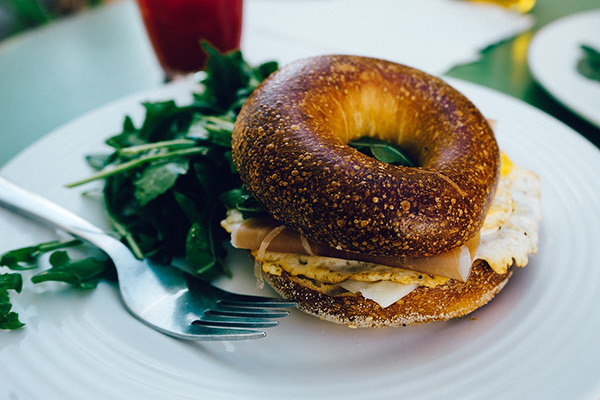 iImage Credit: PixaBay.com
Formerly referred to as Bagel and Lox Day, the day is observed on 9th February every year. Bagel is a type of bread that is boiled before going through the baking process. This procedure softens the bread's inside and hardens the outside to a crisp. Bagel is word taken from the Yiddish text meaning to 'bend.' It thus refers to doughnut-like bread that is bent, and it has a firm texture made from dough which is poached then baked. The name is pronounced as,'bay-gul'.
History of the National Bagel Day
The origin of the bagel in history is debatable; many chefs and culinary historians claim that it was made in 1610 in Poland. This was at a time when the Jewish Council issued regulations on how people should celebrate their children circumcisions. Despite this date in history, it took four century for it to become popular in the United States. When the Americans interest in the Jewish culture increased so did the popularity of bagel.
As a family delicacy, the bagel was served at a dinner table for the people to enjoy but became mass-produced in 1875 by William A. Lawrence. As there are many flavors in the market today, the plain bagel remains the most preferred choice by many people. Another exciting improvement to the bagel was made by a Carolina scientist Robert Bohannon who flavored it with caffeine equivalent to two cups of coffee. As a favored pastry, bagel went into the Guinness book of record in 2004 when Brueggers Bagels created a pastry that weighed 868 lbs and measured diameter of six feet. New York City is home to the best bagel making outlets in the world.
Today, Bagel brings billions of dollars in revenue in America alone. Over the years different regions have found other ways of using and making the bread. As a result, many flavors are available on the shelves across America. However, the most preferred bagel in most states is the Cream cheese.
How to celebrate the National Bagel Day
The obvious way to honor this day is to indulge in the bagel delicacy. You can opt to stay home and make bagel bread and enjoy with friends and family. To make sure that they enjoy the treat, get online and search for creative bagel recipes that you can try out.
National Bagel Day is also an excellent opportunity to get to learn about the Jewish culture and also to try out their other delicacies.
,p>Remember to spread the word about this traditional dish on social media by sharing your thoughts using the hashtag
#NationalBagetDay
.
National Bagel Day Observances